Welcome to my blog! I plan to blog about all things African violet and related to that end. I hope you will find it interesting, and maybe even learn something new. More importantly, I hope to learn from you, so please feel free to add your comments, critiques, and criticisms at the bottom of the page. Thanks for visiting TheFranklinhouse!
If you're looking for more blog entries, click the Next Blog Page link below. If you have the blog bookmarked, you should change your bookmark link from thefranklinhouse.net/blog6.php to thefranklinhouse.net/avblog.htm, which will always take you to the most recent blog page.
Previous Blog Page Next Blog Page

February 27, 2011
Okay, after today, I promise to quit talking about it. (For awhile that is anyhow, or until a show rolls around). That would be 'Ness' Blue Velvet.' So, for anyone that thinks I only grow the small ones, here's a standard for you. I had to show 'Ness' Blue Velvet' in full bloom, it's just so beautiful. I highly suggest it for your collection, especially if you like to show. What do you think? Any judges out there? Blue ribbon?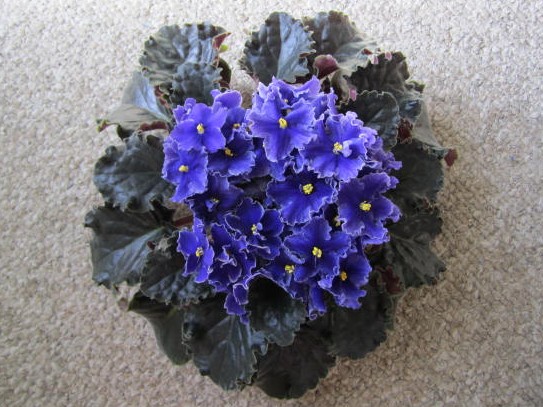 February 26, 2011
Hello there. When I wrote about shipping my leaves, I told you that after I wrapped them in wet paper towel, I wrapped them in foil. But, what I didn't show you was how to wrap them to create a little vase so the water doesn't leak out the bottom. It's easy. First, start by wrapping the leaf stem about half way down the tin foil, leaving the bottom half empty.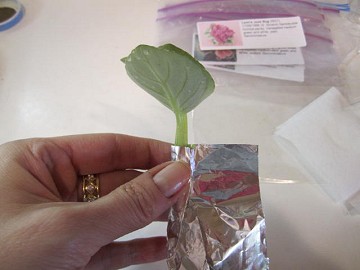 After you have started to wrap the leaf, fold the bottom half of the foil up, creating a pocket.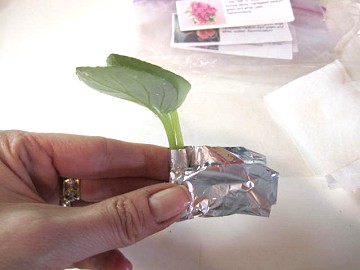 Then continue wrapping the leaf, now that you have covered the bottom, until your foil is completely around the leaf stem.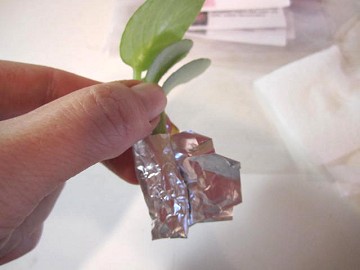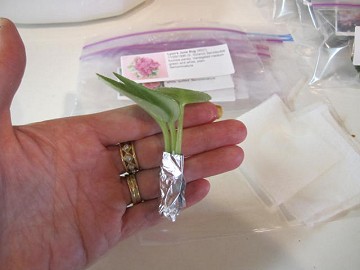 Now you have a little foil vase, keeping the paper towel moist and the water from leaking out the bottom. It's also easy to unwrap once you get it so the leaf stem doesn't break.

After the leaves are all wrapped and bagged, I then place them in the box. I pick a Priority Mail box big enough to hold the leaf order with them lying down and never layered more than two bags deep. I then take a piece of home insulation, and cut it to the size of the box, and lay it on the bottom. I then lay the leaf bags on top of that. I enclose a copy of the order along with the leaf types I have given out, (if a grower's choice order), and the bonus leaves. I do this for you and for me. You now have a record of what you have received right on your order form, and I have a record, so if I get another order from you, I try not to duplicate bonus leaves received.

Okay, after I have placed the leaves on the insulation, and the order form is included, I then take another piece of fitted insulation, and cover the bags. Now, the bags won't shift around in transit, and there's some extra protection from the weather, whatever it may be. I label the box and it goes to the post office either that day, or the next morning. I always ship my leaves as soon as I can after they have been boxed.

If I need to use heat packs, they get wrapped in newspaper and put into the box before the insulation goes in, so it's not directly in contact with the leaves. I have found this works well, according to my recipients. If I use two heat packs, one gets placed on the bottom and then after the final piece of insulation is in place, another, wrapped in newspaper, goes right on top. Again, I don't want the leaves in direct contact with the heat pack.

I know this probably sounds incredibly obvious to pack this way, but you would be surprised at the orders I have seen that are packed so poorly, that even good leaves from the start didn't have a chance. Broken petioles, mushy leaves, one good leaf and one crappy leaf, leaves just thrown into a bag, nothing else, mislabeled leaves, leaves with teeny tiny petioles... Any of this sound familiar? These are all things I don't want to hear from anyone who orders from TheFranklinhouse. It doesn't do any good to order quality leaves from quality plants if they're not going to arrive in perfect condition. I want you to grow a great plant and love it like I do, otherwise it wouldn't be a part of my small, selective collection.

Oh, to wrap this up, I then ship Priority Mail. Also, I'm happy to say that I've always been able to ship a complete order, with no substitutes or omissions. I don't list it if I don't have it. And, I always ship within one week of your order, (usually sooner), depending on your instructions. Have you ever waited months for your order? Crazy. I don't get it. But you will! So, get your orders in soon folks. After National, I start replacing varieties with new ones, so because of my limited space, some varieties will no longer be offered. But new ones will, so keep watch. Speaking of National, expect to see lots of posts about the convention as I prepare my plants for National this year. Until then, happy growing.
February 24 , 2011
Hello there. This is just a reminder that there are only four days left on the Valentine's Day challenge. Please get your guesses in. I'd hate to see a perfectly good sucker plucker not go to a good home. :)
February 22 , 2011
I thought I'd show you how I get my leaf orders ready to ship. Here's how I prep my orders. First, I print up picture labels of the leaf varieties that I want, (from FC2 of course), and adhere them to my zip lock baggies. I then lay out however many zip locks will fit onto a cookie sheet, and then I go to my plant stand with my tray in hand. I do this so I can lay the leaves I take off right on top of (the outside) of the baggie, so as to make sure the right variety goes into the correctly named baggie. No chance of mislabeling then.
I should have said, that before I have done any of this I have watered my plants the day before I want to pluck leaves from them, so they are as fresh and turgid as can be when I take the leaves off. I always make sure I have taken fresh, perfect, mature leaves from the middle of the plant. Unless, I have very recently stripped down the plant, where I may take what is now a new outside leaf, as long as it's perfect. I figure it this way, people are paying for these leaves, and I would not want to deliver anything I wouldn't be satisfied getting myself, and I'm pretty picky. So, I always take good leaves with nice long petioles. In this picture, you can see where I have taken my leaves and they are on the tray, ready for cleaning and wrapping.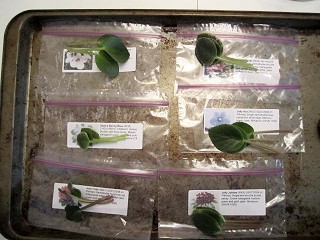 Next, I fill a lukewarm bowl of water with a few drops of detergent, I use Dawn. I then wash off the leaves, and then rinse them well in clean lukewarm tap water. Now they are ready to be wrapped. I use little pieces of paper towel that I have cut up, and little matching pieces of foil that I have cut up ahead of time.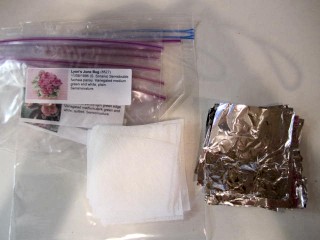 I like to wrap and pack my leaves while they are freshly cut. So then, I fold the little piece of paper in towel in half and then get it wet. Now, it can be wrapped around the stem, covering the cut, open part (below, left). Then I wrap the small piece of foil around the wet paper towel, so the paper towel will stay moist (below right).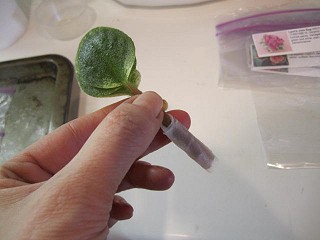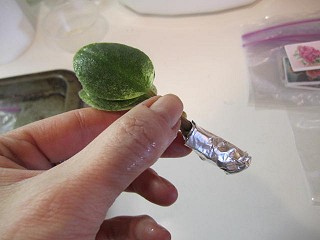 After the leaves are properly wrapped, I put them into the baggie, blow them up with air, and seal them shut. They are now ready for packing, which I will tell you about next time.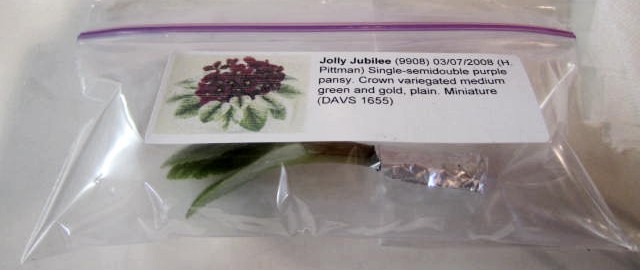 February 18 , 2011
Tonight we had the Fox Valley African Violet Society's monthly meeting. This month our presentation was on design, and it was given by Pat Nichols, whose name you may recognize if you have been to state or local shows in Illinois. Pat gave a great presentation on the basics of design and design principles. She brought little baskets and vases, and enough flowers for all of the members to create their own design. We all had great fun putting together our own little designs. Speaking as someone with virtually no experience in design, (with the exception of underwater designs where I have actually done very well), I really needed a lesson on principles and elements of design. Next time, Pat, you can do a follow-up program on what judges look for in design. Pat, as a student judge and a designer, would add a unique perspective to this. Again, as someone who does not regularly do designs, I am always fascinated with how the designer brings the show theme to the design. But, I guess that's where creativity and experience come in. Maybe with a little more coaching, I might actually branch out, and dip my toe into the design world of African violets. Here's a few pictures from out meeting tonight. For many more photos from the meeting, go to the Fox Valley AVS web site where the rest of the meeting photos are published.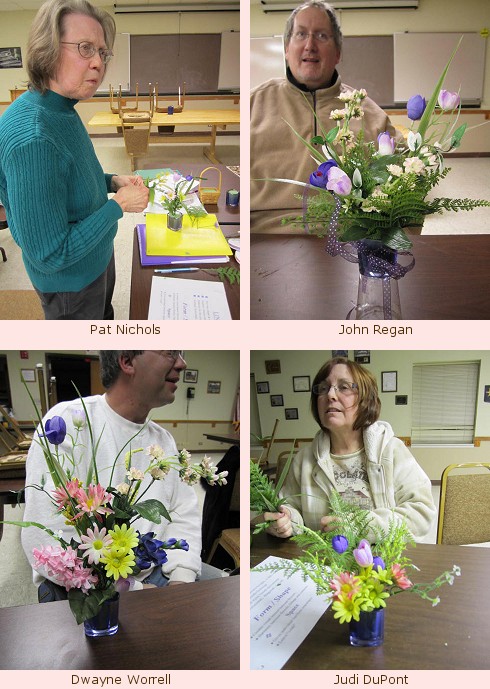 February 17 , 2011
I'm so happy that some of you are participating in the Valentine's Day challenge. And, there are some serious violet people out there, because the guesses so far have been really on target. I was thinking that this contest could go on all month, but the violet peeps are getting so close I'm now thinking it could end very soon. Get your guesses in people. Remember too, people are getting hints from facebook, so find TheFranklinhouse's page, and get in on these super hints.

As a motivator, I am posting the winner's prize. Here it is, the famous, the violet tool among tools, the if-I-only-had-one-tool-it-would-have-to-be-this, the I-can't-live-without-this tool, the SUCKER PLUCKER! Once you have used this tool, it will soon be your favorite too. It has a pointed end that gets in between the smallest nooks and crannies. It has a flat end that is perfect for snapping leaves off when you just want that one particular leaf. It's long and sturdy, so it works on little miniatures and also your standards. It's easy to keep clean. I can't say enough about this tool. (Or maybe I have.) I know that the winner will love it. Happy guessing and happy growing!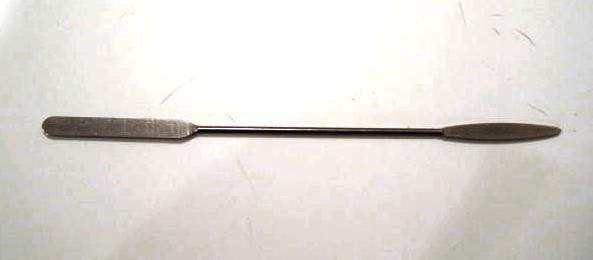 February 14 , 2011
Happy Valentine's Day everybody! I hope you all have a happy and loving Valentine's Day. I have something new for you today. I'm going to see how many of you out there are paying attention. Do do this, I have created what I am calling the Valentine's Day challenge. It will run from Valentine's Day through the end of the month. On March 1st, 2011, or before, I will announce the winner, if any. This is no easy challenge, but I will give a major hint. That is, there is a way to actually figure it out.

Okay, here is the challenge. Below are three views of the same group of violet blossoms. There are nine varieties there. Whoever can name correctly all nine varieties first is the winner. I will identify the blossoms at the end of the competition. Also, at some point during the competition, I will announce the prize. Hint on the prize: it is something I have given away as a prize at my presentations and even on other competitions on this blog before. Now, everyone who reads this blog should know what the prize is by now. And for those who haven't figured it out, as I said, I will tell you soon. Alright everyone, have fun with this one! Oh, feel free to make multiple guesses. If someone wins early, the contest is over. (The first one to identify them all correctly will win.) To submit your guesses, you must name your blossom choices on the comments section of the blog. No private contacts on this competition will be answered. But, there may be hints on TheFranklinhouse facebook page, so you might want to check there from time to time. Happy Valentine's Day Challenge!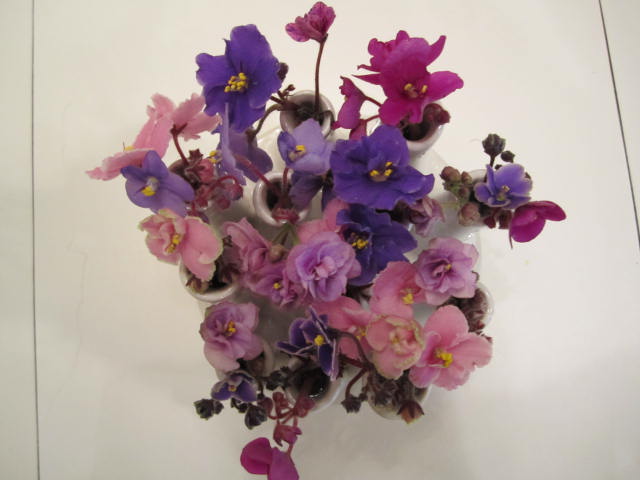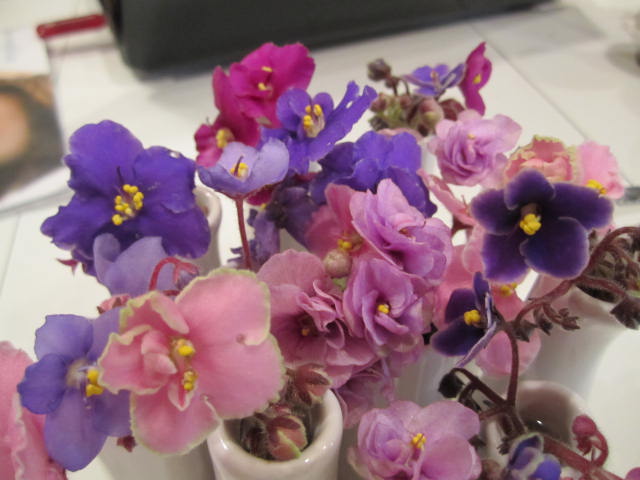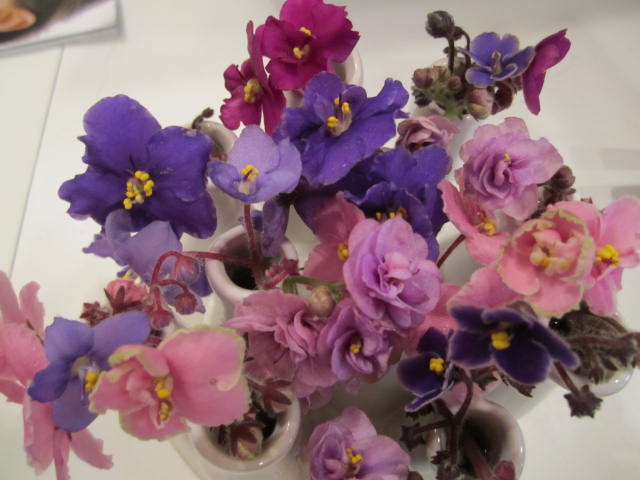 February 10 , 2011
As promised, I let my blooms on 'Classic Rock' open so I could show you how cool they are. Once again, pictures just don't demonstrate the depth of color on some flowers, and this is one of them. Then again, as I have also talked about before, I am not a fancy bloom lover. I love the solids, or something very plain in a blossom. So for me to go gaga over this flower is really saying something about it. It's such an oldie, that maybe most of you have seen or grown this plant before. Maybe you have forgotten how well this plant performs. Maybe you had to clear out some old ones to make room for the many wonderful new plants that come along. If so, maybe it's time to give it back some shelf space, as it has earned its place on my stand. Or, maybe you have never grown this plant before. If not, you are in for a real treat if you try this plant. If you show, you will not be disappointed. Give it a try, and then let me know how you like it.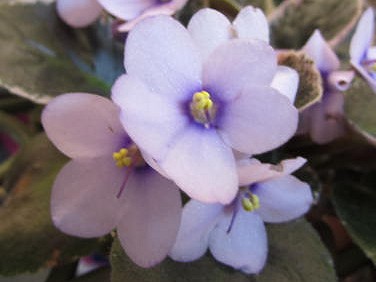 Below are comments from our visitors. Scroll to the bottom to add your comments.
Warning
: mysql_db_query(): It is not safe to rely on the system's timezone settings. You are *required* to use the date.timezone setting or the date_default_timezone_set() function. In case you used any of those methods and you are still getting this warning, you most likely misspelled the timezone identifier. We selected the timezone 'UTC' for now, but please set date.timezone to select your timezone. in
/home/thefra7/public_html/comments/comments_show.php
on line
37
Deprecated
: Function mysql_db_query() is deprecated in
/home/thefra7/public_html/comments/comments_show.php
on line
37
Warning
: mysql_db_query(): It is not safe to rely on the system's timezone settings. You are *required* to use the date.timezone setting or the date_default_timezone_set() function. In case you used any of those methods and you are still getting this warning, you most likely misspelled the timezone identifier. We selected the timezone 'UTC' for now, but please set date.timezone to select your timezone. in
/home/thefra7/public_html/comments/comments_show.php
on line
37
Deprecated
: mysql_db_query(): This function is deprecated; use mysql_query() instead in
/home/thefra7/public_html/comments/comments_show.php
on line
37
Comments to date: 31. Page 1 of 4.
outdoor lighting manufacturers from Location unknown

12:57pm on Thursday, September 8th, 2011

Simply killing some in between class time on Digg and I found your article . Not usually what I choose to examine, but it surely was completely value my time. Thanks.

Andrea from TheFranklinhouse

3:43pm on Sunday, February 27th, 2011

Weeeeelllllllll, we might know tomorrow, or there may be another way to win, we'll see. :)

Kurt from Philly

3:28pm on Sunday, February 27th, 2011

Andrea,

Great news! At this point I am just dying to know what these varieties are...It's eating me alive. Tomorrow we'll know?

Andrea from TheFranklinhouse

11:52am on Sunday, February 27th, 2011

Hi Kurt, I have some good news and some not necessarily bad news - the good news, I'm sure we can work out something on the 'Ness Blue Velvet,' we'll chat later about that. The rest of the news, you have five right. But don't despair, if nobody wins, I'm having a way for someone to still be a "winner." Stay tuned.

Kurt from Philly

11:42am on Sunday, February 27th, 2011

One last try...

1. Lyon's Blueberry Sprite
2. Dean's Bunny Blue
3. Cupid's Jewel
4. Jolly Jubilee
5. Rob's Bo Peep
6. Rob's Inner Orbit
7. Rocky Mountain Trail
8. Precious Red
9. Windsome

Kurt from Philly

11:37am on Sunday, February 27th, 2011

Love Ness' Blue Velvet. I want leaves lol. Is it registered?

Andrea from TheFranklinhouse

7:40pm on Thursday, February 24th, 2011

@Kurt, I hate to see you give up, you were on such a roll. Hang in there, your next guess could be the one!

Kurt from Philly

7:38pm on Thursday, February 24th, 2011

I did my best....I give up

Andrea from TheFranklinhouse

3:51pm on Thursday, February 24th, 2011

@ Kurt, now you're on the right track again, six right!

Kurt from Philly

3:49pm on Thursday, February 24th, 2011

Here we go....

1. Precious Red
2. Dean's Bunny Blue
3. Optimara Little Hopi II
4. Rob's Bo Peep
5. Cupid's Jewel
6. Rob's Inner Orbit
7. Jolly Ace
8. Jolly Jubilee
9. Rocky Mountain Trail
Add your comment here: