Welcome to my blog! I plan to blog about all things African violet and related to that end. I hope you will find it interesting, and maybe even learn something new. More importantly, I hope to learn from you, so please feel free to add your comments, critiques, and criticisms at the bottom of the page. Thanks for visiting TheFranklinhouse!
Previous Blog Page Next Blog Page

October 31, 2010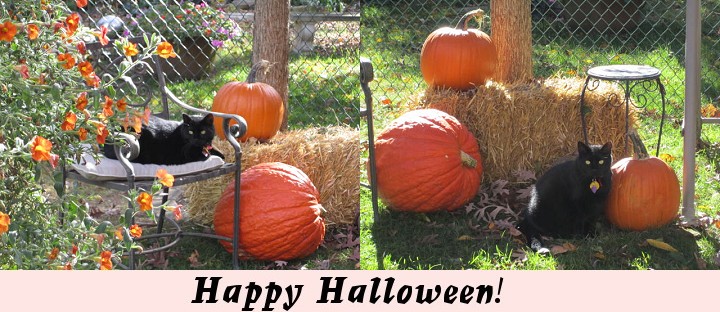 from TheFranklinhouse
October 29, 2010
Recently at the Fox Valley AVS Show I won Runner-up to Best in Show with my plant of 'Lyon's June Bug'. It was a beautiful little plant. I say was, because I almost killed it in a matter of two weeks after bringing it home from the show. As many who know my growing methods know, I top, and sometimes bottom water. I use solo cups as pots and I have a drainage hole in each pot. Because I grow in translucent cups, I have to slip pot all of my violets for show into a clean white cup. No problem, except for when you forget to take the slip pot off before you put the plant back onto the shelf. That's what I did on this plant, and before you knew it, I had watered it twice without letting it get proper drainage. Before I knew it, it had crown rot, and the plant lifted right off of the soil. As I have said before, stuff happens, and when this happens, here is what I do:

1. Cut off all rotten parts of the stem.
2. Take off outer leaves to leave a small "neck."
3. Root the remaining crown in water.

When the plant is fully rooted, I will transplant it into a growing medium I use for water rooted plants called "Seed Starter," which is available at most home stores. I'll show you this when the plant has some roots.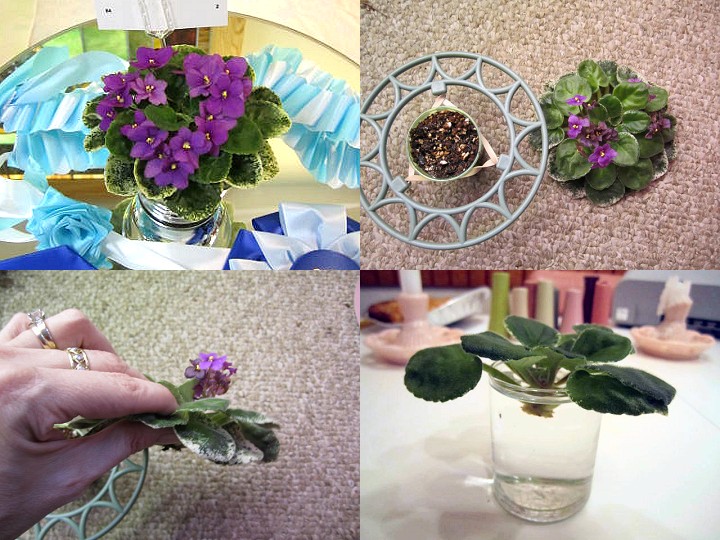 October 25, 2010
I can't quit talking about the Lonestar show. I'm so excited to see old friends and to be giving a presentation. As you know, I need plants to take to Lonestar for my program, and I'm running into the same problem I talked about earlier, having plants ready too early or too late. But there is another problem that arises seemingly suddenly which is a plant that looked on track to be good for show, and once it starts blooming you realize it's out. This is what happened to my 'Ness' Grape Fizz'. This plant is usually a good performer for me. That's why I keep it around even though it's an oldie. It has a beautiful big blossom and usually shapes up nicely by itself — two qualities I admire in a show plant. Once in a while, though, stuff happens. This time, although the plant sent up a lot of bloom stalks, there is only one gosh darn blossom on each stalk! Oh well. Time to disbud, let the plant rest, and gear it up for another show. Hopefully next bloom cycle will be back to normal.

The other plant, 'Ness' Sno Fun', is another oldie but goodie. I just love the large, pure white blossoms. Those who know me well laugh because I tend to love the "boring" plants. I love white blossoms. I love solid blooms against solid green foliage. I love the basic blue violet. Anyhow, I digress. Below, in the picture of 'Ness' Sno Fun'. It is blooming too early. Plus, it has a large mar on a leaf that I probably wouldn't otherwise groom off. If the bloom were on time, I would probably still "show" it. The mar isn't a deal breaker for me. But, I'm pretty sure this bloom won't hold out for another 2+ weeks. What do you think?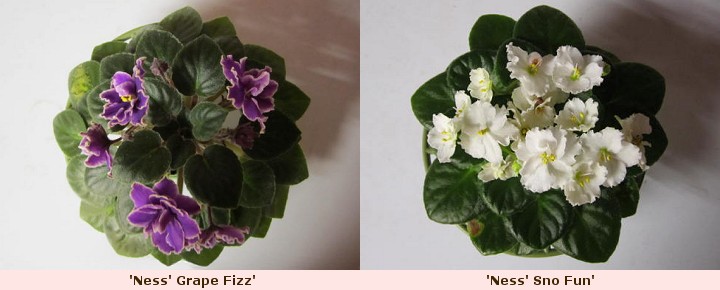 October 24, 2010
The Fox Valley AVS had their annual show about two weeks ago, and luckily I had plants ready for that show. But, what inevitably happens is that I had grown many more for the show that were either ready to early, or too late. Below is an example of two plants that were ready too early. Although I entered these two plants in the show and they got blue ribbons, they were not in bloom enough for BIC or better. Too bad I didn't go to MAAVS this weekend, I'd love to get two blue ribbons from that show. But alas, I'll have my own little private show for you and for me, and I'll hope for better timing next time. :)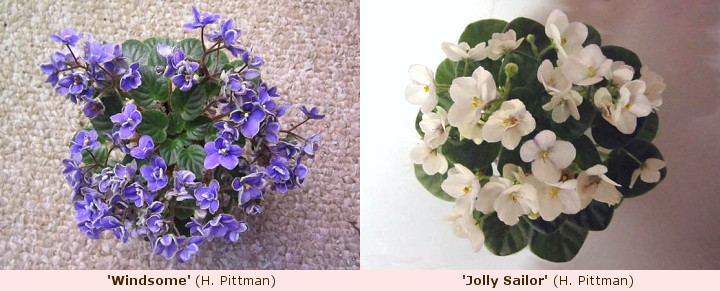 October 18, 2010
This is 'Ice Storm', a favorite of mine because it's blue and white, and I love blossoms that are blue and white. I am considering taking it to Lonestar. At first glance, it appears to be a nicely shaped plant. It has a ton of buds coming up. But in the other pictures, you can see how it has become a plant above a plant, as many of my neglected plants have become. This is another one that would have to be ripped down and re-potted before showing. However, you can only rip down so much. My rule of thumb is to leave at least ½" of roots on the root ball to transplant, or the plant will probably show transplant shock. I'm not sure that once I strip what needs to be stripped off, whether there will be enough of a root ball left. I don't want to do it now, because that would for sure affect the bloom schedule that the plant is on now. And by affect, I mean interrupt or slow down. Again, I need to be in full bloom in three weeks. Do you think this one will make the show?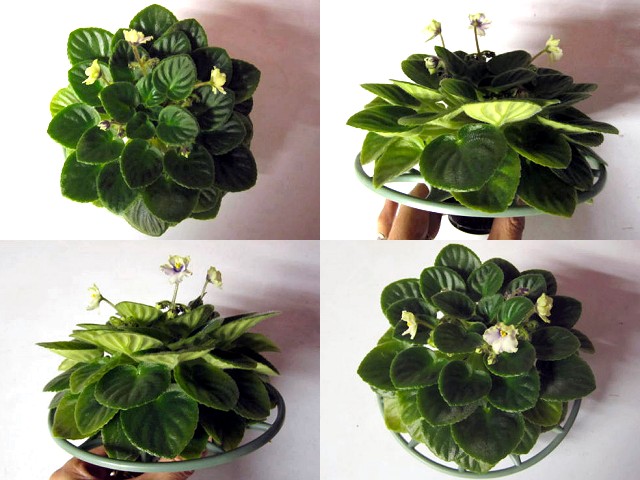 October 17, 2010
Here's an update on a couple of plants I showed you a few weeks ago. As I mentioned before, I need a few "show plants" to take to my presentation at Lonestar in three weeks. (I mis-spoke before when I said it was three weeks away, as that is the mark this weekend). Here's 'Snow Leopard', just starting to poke its blossoms through the foliage. These are singles, so I think the timing should be pretty good. The next one is 'Old-fashioned Rose', which has a lot of blooms open now, and I'm a little afraid that it will be perfect in two weeks instead of three. But, they are full doubles, so maybe I'll be okay. That's two plants, I need at least two more to take. I think tomorrow I'll look at a couple more in the running. Will you help me decide?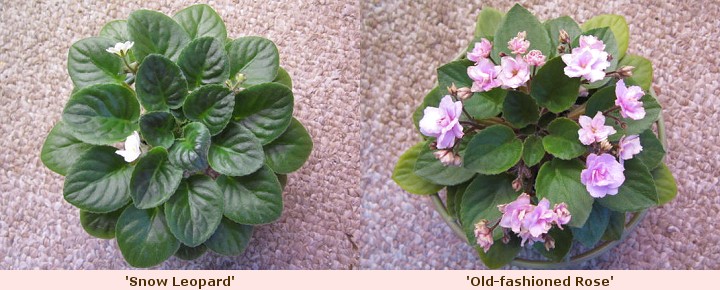 October 16, 2010
Today I thought I'd share with you a couple of new Pittman varieties I have been growing. They are 'Jolly Coral' and 'Jolly Falls'.


These are both "baby" plantlets transplanted from a leaf cutting, but fully grown out and not yet separated from each other. It is my practice not to separate plantlets before each plantlet, or at least one plantlet in the bunch has bloomed true. I simply do not have enough room to separate babies and wait to see which ones bloom true. Sometimes all the plantlets bloom at the same time, making it easy to distinguish. And, it's interesting sometimes to see how violets sport from the same leaf cutting. Sometimes I'll get three plantlets in a cup, (or more) and all will bloom true except one. There's no doubt then as to whether you have mislabeled something, it's a sport

Another advantage in letting the multiple plants grow together is you get a real good idea of how symmetrical a plant will be. If it's symmetrical growing as a bunch together, you can bet it will be a symmetrical plant once it is potted up on its own. Remember, these are not multi-crowned plants, but separate plantlets growing in the same pot together.
It looks like 'Jolly Falls' will be a keeper for sure, as it has a nice even variegation, the blooms are really pretty and seem to be abundant already. 'Jolly Coral', while not yet displaying the same qualities, really is a nice "corally" shade, which I like, and it will be worth growing out to see what kind of show plant it will be. Anyone else growing these varieties?
October 15, 2010
One of the plants I put in the show last weekend was my Sinningia 'Sky High Spot'. I'm particularly proud of this little guy because it's my very first blue ribbon for a sinningia. I have tried growing sinningias for over six years now with no success until lately. Every year at National I would buy a couple of sinningias. I'd bring them home, they'd live for a little while, then die. I sounded just like so many violet stories I'd heard before from good-hearted, houseplant-growing folk who tried to grow violets they got as a gift, but never succeeded.

One lucky day, my good friend, now sinningia mentor Beverly Powers from Texas was over and saw my tired little plant. She did what I do to violets that sends violet newbies into shock. She ripped, I mean ripped my plant down to practically nothing, or so it seemed. I took my new little and significantly smaller sinningia and put it back on the shelf. Well, the lady knew where to cut. Soon the plant was filling in and sending up blooms.

Unfortunately I haven't learned how to time sinningia blooms for show. So, as a result my plant looked great about a week before the show. By show time I had to take off about half of the blooms. It had thirteen, and I had to leave it with just seven. But, I entered it anyway, and as I said, it got a blue ribbon!

Here is my plant a week before show (left), and at the show (right).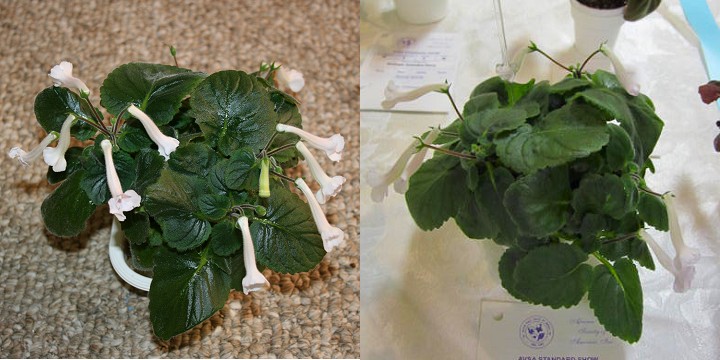 October 14, 2010
As promised, here are the designs from the show:
Click on the thumbnail image to see the full-size photo.
October 13, 2010
Are you tired of show pictures yet? Well this is the last batch of horticulture pictures I have. Tomorrow I will show you our designs. Enjoy.
Click on the thumbnail image to see the full-size photo.
Show tables

Rob's Bo Peep

Skagit Toy Asset

Plum Parasols
October 12, 2010
Here are some more pictures of entries in the FVAVS show this past weekend.
Click on the thumbnail image to see the full-size photo.
| | | | |
| --- | --- | --- | --- |
| | Show tables | Show tables | |
| | | | |
| | | | |
| Jolly Ace | Frosted Denim | Frosted Denim | Jolly Sailor |
October 11, 2010
More show pictures from the FVAVS 2010 Show, Miss Violet Tours Tiffany's:
Click on the thumbnail image to see the full-size photo.
Optimara Little Diamond

Tom Thumb

Jolly Orchid

Jolly Sailor

Jolly Blue Clouds (the winner)

All above are entries in the Anita Rae McCormac Memorial Award class
(Best Blue and White Miniature or Semiminiature)


Streptocarpus 'Raspberry Network'

Streptocarpus and other gesneriads


Streptocarpus 'Bristol's Mei Lee'
October 10, 2010
I thought I'd post some more pictures from the show this weekend. Stay tuned for more every day!
Click on the thumbnail image to see the full-size photo, then click your browser's Back button to return here.
| | | |
| --- | --- | --- |
| | Best Standard | |
| | | |
| | | |
| One of the show tables | | |
October 9, 2010
Woo hoo! A good day was had by all at the Fox Valley African Violet Society's Show and Sale today. I'm proud to announce that I took Best in Show with my little plant of Rob's Fuddy Duddy. My top prizes included: Best in Show- Rob's Fuddy Duddy, Runner-up to Best in Show-Lyon's June Bug, Best Semiminiature-Rob's Fuddy Duddy, Best Miniature-Jolly Ace, Best AVSA Semiminiature Collection-Rob's Fuddy Duddy-Lyon's June Bug-Rob's Slap Happy. Ironically, the Rob's Fuddy Duddy that won BIS was not from the collection. I had another Rob's Fuddy Duddy in the class and that's the one that won BIS. Now, without further adieu, what you have been waiting for, pictures! Tonight the highlight, the head table. Stay tuned for more pictures of the entire show over the next few days.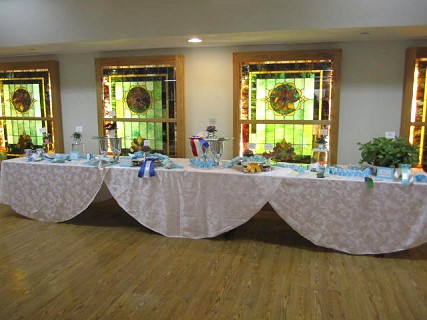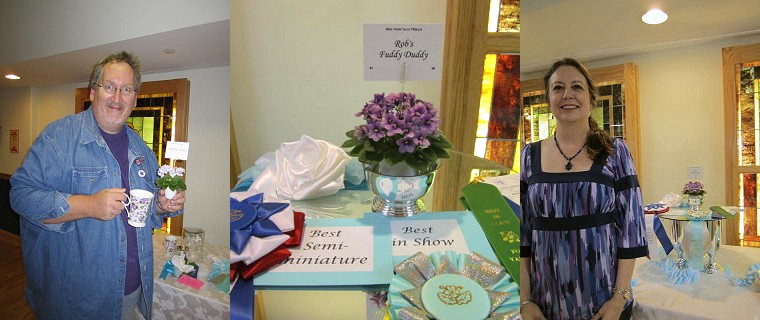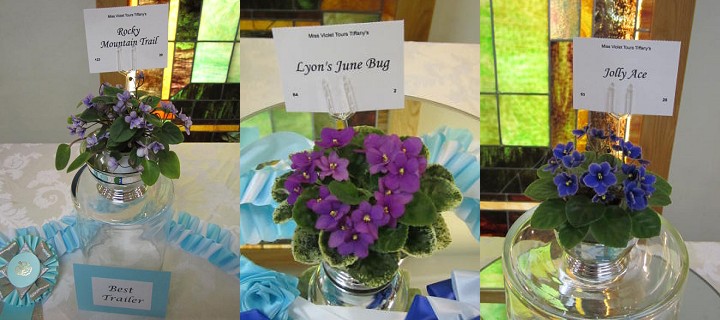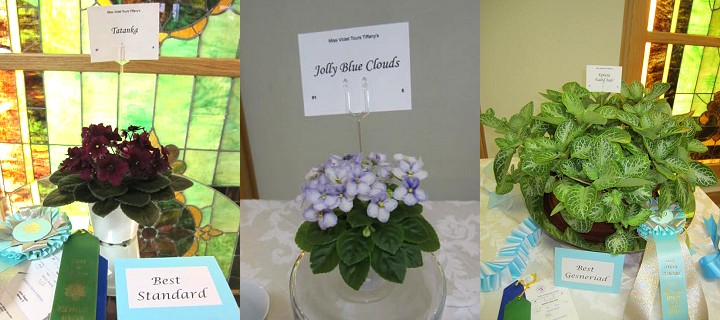 October 8, 2010
Today was set-up and entries for the Fox Valley African Violet Society's (FVAVS) show and sale. All went well, and most all of the members showed up to enter or help or both. Our last count was over 130 entries! Not bad for a local club. Now that all the plants are entered, I can't wait for judging to start tomorrow. We have a beautiful room, and the theme of the show is "Miss Violet Tours Tiffany's." Miss Violet is the club mascot and logo, and she often tours various places during show time. Here are some "before" pictures and set-up pictures.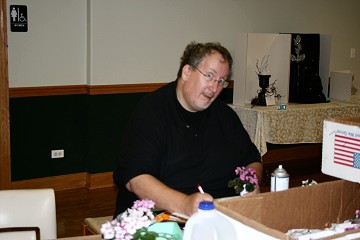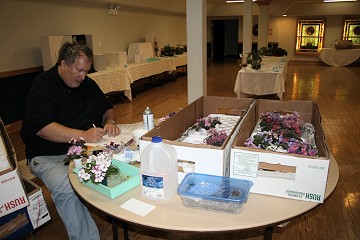 This is John Regan prepping his plants for show. Notice the volume and abundance of bloom. I have a feeling that this may be the "John Regan Show."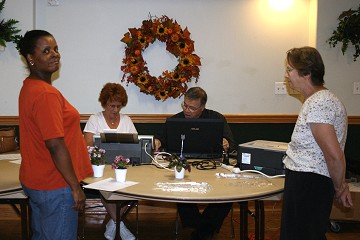 Tonya Hughes and Pat Nichols work placement while Joe Bruns and Bonnie Formella are handling the Classification and Entries.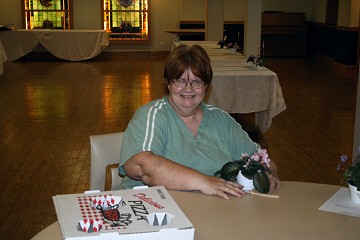 Tomi Griesenauer preps her plants for show.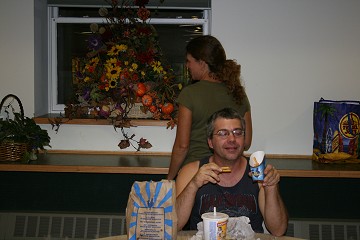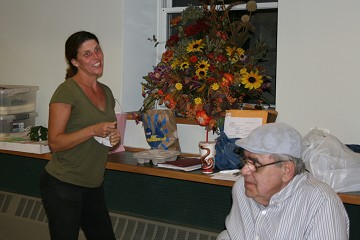 Dwayne Worrell and Janet Newman take a break after setting up all the tables. Thanks guys!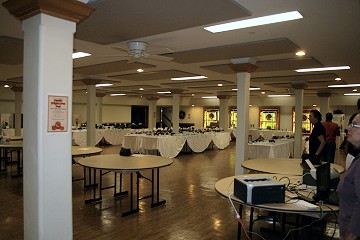 View of the showroom.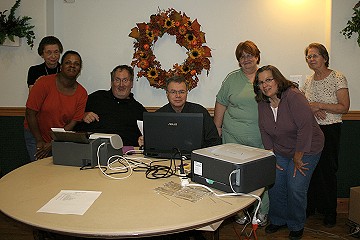 Club members Darlene Thompson, Tonya Hughes, John Regan, Joe Bruns, Tomi Griesenauer, Cindy Chrisos, and Pat Nichols. Thanks, everyone, for all of your help and participation.
October 7, 2010 ***Special Edition***

I just found out that today is the 43rd wedding anniversary of the famous African violet couple Jan and Joe Bruns. Happy Anniversary Jan and Joe! Thanks for everything you have done and continue to do for us.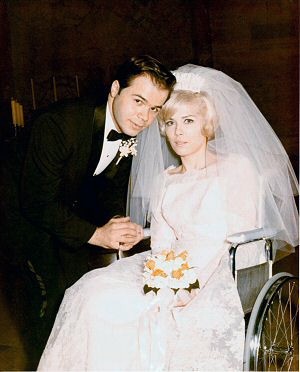 October 7, 2010

I am so excited because it's show time tomorrow and then Saturday is the judging. That means today was transplant day. Many plants are in need of a pre-show transplant, and I always do it the day before the show. Now that I have done all my transplanting I just do my final grooming, dusting off, and checking for spent blossoms, right before entering. I would love to show you my before and after pictures of the plants that I am going to show. But, as mentioned earlier, I don't want to give pre-show blog exposure to my show plants, so you'll just have to wait until the weekend.

However, I do have a few plants that I feel that although they are hopefully blue ribbon plants, do not have enough bloom to do better. Especially since I know that super-grower John Regan will be there with his plants in full bloom. That's what you get when you mentor someone. Don't be surprised when they beat you at show time! :) If you're lucky. Anyhow, here's a sneak peek at a couple of my show plants. They are Rob's Bo Peep and Jazz Bouquet. Great shape foliage wise, so maybe they'll be in full bloom for Texas.


'Rob's Bo Peep'


'Jazz Bouquet'
October 6, 2010

'Snow Leopard' is one of the plants I was hoping to bring to Texas in a few weeks. I fear that the flowers are not far enough along since they're not even poking above the foliage yet and I only have three more weeks. But I want to show you what my show plants usually look like before grooming them for a show. Often, I have not repotted until absolutely necessary, and the leaves begin to get smaller and crinklier. Then, after repotting, the new growth comes in big and beautiful. Most people tear off these older leaves, and when I am the conscientious violet grower, I do too. But most often, the procrastinator in me takes over and before I know it, I have a plant on top of a plant. If you look at the picture below...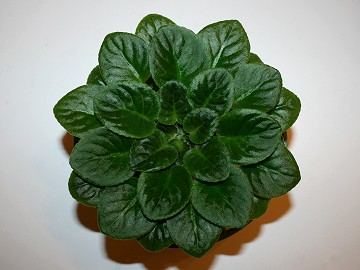 ...you see what appears to be the start of a beautiful show plant, no? No, a closer look reveals the older, smaller leaves that need to be removed.
After removing those leaves, you can see the flower stalks forming and the plant we saw at the top remains. Here is the after picture from a top view.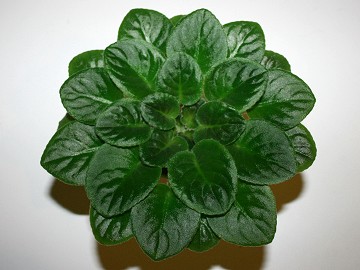 Can you tell the difference at this view between the non-groomed and the groomed plant?
October 5, 2010

As I'm going through the few plants I have to see what might be ready for show, I see my 'Sierra Sunrise', which is out of the running. It's a beautiful bloom, but the foliage has gone solid on me. It's supposed to be variegated. The plant grows into a beautiful shape and it stays a manageable size, but I'm afraid my heat over the summer was too much for it.

I have two plant stands. One is upstairs in a "sunroom," and the other one is in the basement. They both come with a different set of perks and pitfalls. In the summer, the upstairs room got way too hot, but downstairs it's perfect. In the winter the basement gets way too cold, but the upstairs is perfect. Oh well! I'm going to wait and see if I can get the variegation back with the plant downstairs during the winter.

The first picture is a top view that shows the shape of the plant and the new growth that has lost its variegation. The other pictures show from different views what the plant did and should look like, color-wise. Has anyone else had this happen to 'Sierra Sunrise'?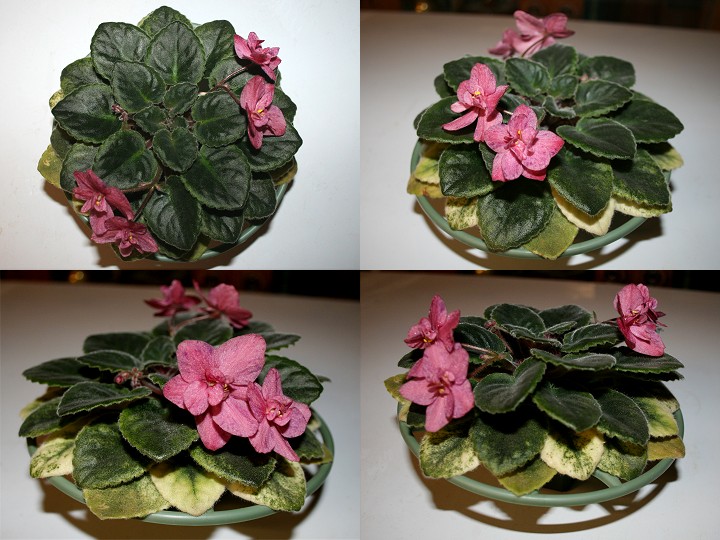 October 2 , 2010

I mentioned previously that this is showtime for me. It's the crunch time less than a week before our show. I would love nothing more than to show you my show routine on some of my show plants, but I just don't think it's a good idea to give plants blog exposure prior to a show.

But, what I do have is a second set of "show" plants for a different occasion, that won't be going into this show. These plants are being grown for my presentation as a guest speaker at the Lonestar Convention in Texas this November. They're not at the same bloom stage as my Fox Valley plants, but you'll see a progression from an earlier stage of growth. Below is a plant of 'Old-fashioned Rose'. I hope to be taking it to Texas. It is shaping up nicely for "show." It may not look that way now, but I see the plant it will be when I present it. I leave on "buffer leaves" until probably a day or two before a show. I rip off these outer leaves right before the show and transplant the plant. I don't like to disturb a plant when it's in its bloom cycle by transplanting it during that time. I've never had a problem with transplant shock by repotting right before a show (knock on wood), so it's a habit I've grown accustomed to.

The first picture is of 'Old-fashioned Rose' as it sits on my shelf starting to bloom. The second picture is a close-up of all the buds coming up. The last picture is how I will rip it down and transplant it for show. How does it look so far?

October 1 , 2010

Happy Fall! I love this time of year; I think it's my favorite. Plus, it's show time!! Our local club, the Fox Valley African Violet Society, is having their annual show next weekend. See below for details. But, as it is the one week count-down, the roller-coaster ride begins. I eagerly stare at my plants, as if my gaze had some magic power, and I say to some plants, "bloom, open, bloom, open," and I say to the others, "hang on baby, it's only one more week." That's my story of either being too early or too late. Thus, the sport and challenge of it all, which I love. Anyone can grow a good violet, but to get it to it's peak on that one day — well, that deserves the rosette.

We have some excellent growers in our club — John Regan, Judi DuPont, Tomi Griesenauer, Pat Nichols, Cindy Chrisos, to name a few, so I can guarantee beautiful plants. Come and see for yourself!
Fox Valley African Violet Show and Sale
Community United Methodist Church
20 N. Center Street
Naperville, IL

Sat., Oct. 9, 2010, open to the public 12:00 p.m. to 4:00 p.m.

Below are comments from our visitors. Scroll to the bottom to add your comments.
Warning
: mysql_db_query(): It is not safe to rely on the system's timezone settings. You are *required* to use the date.timezone setting or the date_default_timezone_set() function. In case you used any of those methods and you are still getting this warning, you most likely misspelled the timezone identifier. We selected the timezone 'UTC' for now, but please set date.timezone to select your timezone. in
/home/thefra7/public_html/comments/comments_show.php
on line
37
Deprecated
: Function mysql_db_query() is deprecated in
/home/thefra7/public_html/comments/comments_show.php
on line
37
Warning
: mysql_db_query(): It is not safe to rely on the system's timezone settings. You are *required* to use the date.timezone setting or the date_default_timezone_set() function. In case you used any of those methods and you are still getting this warning, you most likely misspelled the timezone identifier. We selected the timezone 'UTC' for now, but please set date.timezone to select your timezone. in
/home/thefra7/public_html/comments/comments_show.php
on line
37
Deprecated
: mysql_db_query(): This function is deprecated; use mysql_query() instead in
/home/thefra7/public_html/comments/comments_show.php
on line
37
Comments to date: 7. Page 1 of 1.
Andrea from TheFranklinhouse

6:59pm on Tuesday, November 2nd, 2010

Amy, you're absolutely right. As of today Ness' Sno Fun is out. It's still blooming but too many of them have browned out now. As for Ice Storm, I'm planning on taking that. Good call!

Amy from AR

3:50pm on Wednesday, October 27th, 2010

Nope, I don't think Ness' Sno Fun will make it. The whites don't seem to last as long as darker colors, but you never know. And I say go ahead and plan to show Ice Storm, even if you have to take off more of the roots than you want. Sometimes it doesn't matter when they're in bloom.

Amy from AR

7:43pm on Friday, October 8th, 2010

I don't think it would be considered moral to rename such a plant and enter as a new cultivar. I don't doubt that people do it, but I would consider that a real no-no. Under the rules, I believe that if a plant that is supposed to be variegated is shown in its proper class and doesn't show it, it loses a considerable amount of points, or is moved down a color (like from blue to red.) Maybe someone... read more »

Andrea from Downers Grove

12:40pm on Friday, October 8th, 2010

Ann-Marie, I'm not sure that a variegated plant losing it's variegation would qualify as a sport. Especially since temperature and condition affect the variegation. Now if a solid green leaf sported to a stable variegated leaf, that might be different. Bottom line, I don't know the answer, maybe someone can help me out? Thanks for the great question. Think I'll have to call Bill F. on this on... read more »

Ann-Marie from Portland, Maine

12:24pm on Friday, October 8th, 2010

If you have a plant that isn't true to description (like your Sierra Sunrise going solid instead of variegated) can't you show it under an unregistered name that you give it? Or do you just not like doing that.... I see it a lot at shows. Especially Central Jersey.

Amy from AR

6:07am on Friday, October 8th, 2010

Happy Anniversary to Joe and Jan...beautiful picture! And way to go, Andrea...your plants are beautiful as usual. Good luck at the show!

Andrea from Downers Grove

5:59pm on Thursday, October 7th, 2010

Thanks Joe and Jan for the great picture!
Add your comment here: